Twitter Rolls Out Language Targeting for Promoted Tweets & Accounts

Twitter announced a new targeting option for advertisers yesterday on the company blog: language targeting. Advertisers are now able to target Promoted Tweets and Promoted Accounts in 20 different languages, and to access language-specific analytics data. The targeting option is available through Twitter's Ads API.
In order to determine a user's language, Twitter uses a combination of different signals, including "the language selected in a user's profile settings and the languages that correspond to a user's activity on Twitter". The same user can be targeted by multiple languages if Twitter perceives this user as multilingual. Here's how Twitter illustrate the language targeting option: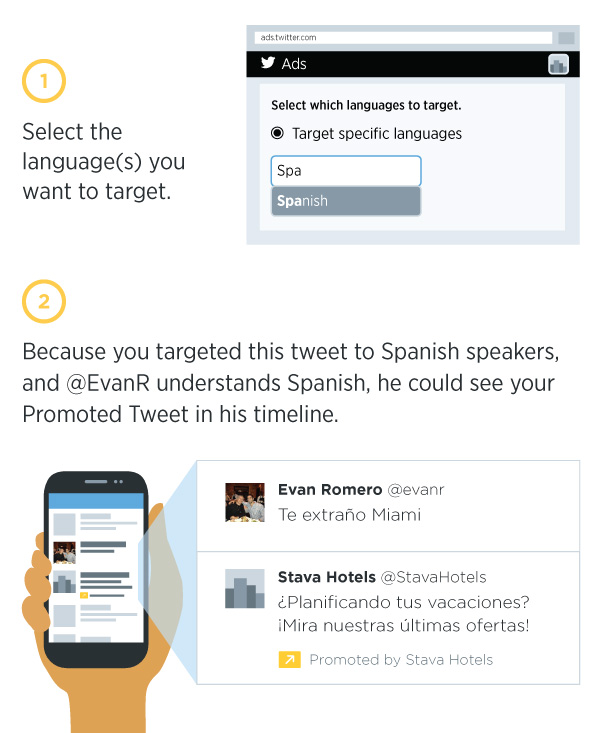 Twitter mentioned the following scenarios to use language targeting in the feature's announcement: "Language targeting can benefit marketers who want to reach a global audience with language-specific messaging, or who are in countries where large populations speak multiple languages".
The new targeting option could turn out to be quite interesting for Canadian advertisers who want to target either an English or French-speaking audience. That being said, the fact that the same user can be targeted by multiple languages will likely reduce the feature's benefit as many French-speaking Canadians also speak English, and possibly tweet in English as well. As a result, they would be exposed to the same ads in different languages, which can turn out to be quite annoying. On the other hand, brands could target multilingual users and provide complementary messaging in different languages to make it more engaging.
Twitter specifies that the language targeting feature can be used in conjunction with other targeting options, such as interest, keyword, gender, geography or tailored audience segments. Twitter provided the following example to illustrate the multi-targeting options:
"A travel brand that wants to reach Spanish-speaking travelers in the U.S. can combine U.S. geo-targeting, travel-category interest targeting and Spanish language targeting to effectively connect with their target audience."
The new language targeting feature is promising, however it yet remains to be seen how many users fall under the multilingual category, and how been exposed to multiple versions of the same ads in different language is perceived. In the meantime, get in touch with us if you would like to discuss Twitter advertising campaigns, through our contact page or Twitter.