Twitter Opens Self-Serve Ads to All Businesses

Twitter has opened its self-serve ads platform to all US users, it announced yesterday via its Advertising Blog. Businesses who previously had to request an invite to gain access to the promoted tweets platform can now simply sign up and go. In spite of the increase in advertisers that will surely result, Adweek reports that there will be no increase in the frequency of ads delivered to Twitter users.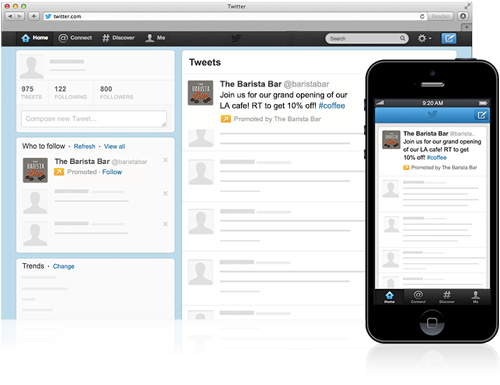 This move brings Twitter up to speed with Facebook and Google, both of which offer self-serve access to their ad platforms, and makes it easier for small businesses to integrate promoted tweets into their social marketing plans with the ability to target users based on location, device, gender, interests, and tweet keywords. The expansion of its ad platform will significantly boost Twitter's ads revenues, so unless something goes seriously awry you should expect to see it rolled out to Canada and other countries in the near future.
Read the full announcement from Twitter here.