Twitter Advertising: 4 Ways to Create a Customized List for Tailored Audiences

Twitter has recently revamped its advertising fees to make its paid advertising platform friendlier for small and medium-sized businesses (SMBs). Advertisers can now specify exactly how they want to spend their money instead of paying for any Twitter interaction such as retweet, reply, 'favorite,' or click. For example, an online retailer can choose to pay Twitter only when a user clicks-through to its site and view a winter collection.

By leveraging Twitter's new SMB-friendly feature and Tailored audiences, you can target a highly qualified audience who performs specific actions and generate a greater return from your ads. Tailored audiences lets you upload a list of Twitter users you want to target so your ads will only appear in front of people who meet your criteria. For example, you can upload a list of Twitter handles for local small restaurants, cafes, and bakeries so that your ads, or Promoted Tweets, will only display to this list.

Tailored audiences is useful because it lets you focus your advertising campaign and only target a specific, qualified audience. This helps you avoid wasting advertising dollars.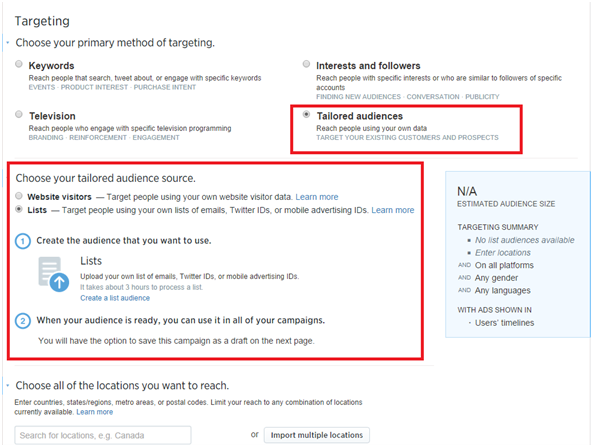 To help you develop a comprehensive list of targeted Twitter users, I've provided four tactics you should use: