Twitter's New While You Were Away Feature
At the start of 2015, some Twitter users began noticing a "While You Were Away" feature popping up on their feeds. Back in November 2014, Twitter announced plans to roll out this feature in the New Year, along with other enhancements designed to boost user engagement. Briefly, when you log into Twitter, you'll see a timeline pinned to the top of your Twitter feed which presents the "best" tweets since the last time you opened Twitter.
In many ways this makes sense. A common rule of thumb is that the average shelf life of a social media post is three hours. So for users who drop into Twitter infrequently, this feature should bring to the surface important/interesting tweets from the people and brands they follow. Furthermore, once you scroll past the "best" tweets, you are back to your real-time news feed.
Not surprisingly, the concern being expressed by marketers over this feature is: how does the algorithm determine which tweets are the best"? The concern being expressed by users is: how can I turn this off?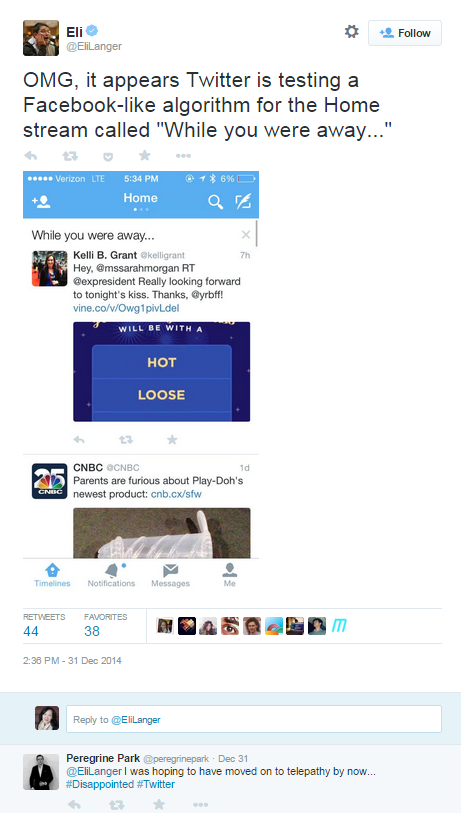 The whole ruckus brings back memories of when Facebook rolled out a similar feature where News Feeds displayed posts based on a "Top Stories" ranking instead of chronological order. Facebook did provide a News Feed setting to view by "Most Recent" or "Top Stories" but users still complain that Facebook seems to randomly and spontaneously set the default back to "Top Stories".
It's all about the users' sense of control. If Twitter takes the same route as Facebook, the "best" tweets will be the ones that garnered the most engagement (retweets, replies, quotes), reflect user preferences, plus a dose of sponsored tweets.
Smartphone users seem to be first on the deployment list for this feature, so it remains to be seen how "While You Were Away" affects people who view social media through a third-party dashboard such as Hootsuite or SproutSocial.
In the meantime, let's see whether Twitter listens to unhappy users and provides a setting to turn off this feature or whether it sticks to its guns and waits for people to give up and get used to "While You Were Away".