Top SEO Factors 2015 Revealed
|

Earlier this week, Search Engine Land published an updated version of its popular Periodic Table of SEO Success Factors. The table is intended to be a best practices guide for marketers who want to improve their search ranking results. Search Engine Land identified several variables that it believes are predictors of success in search engine optimization.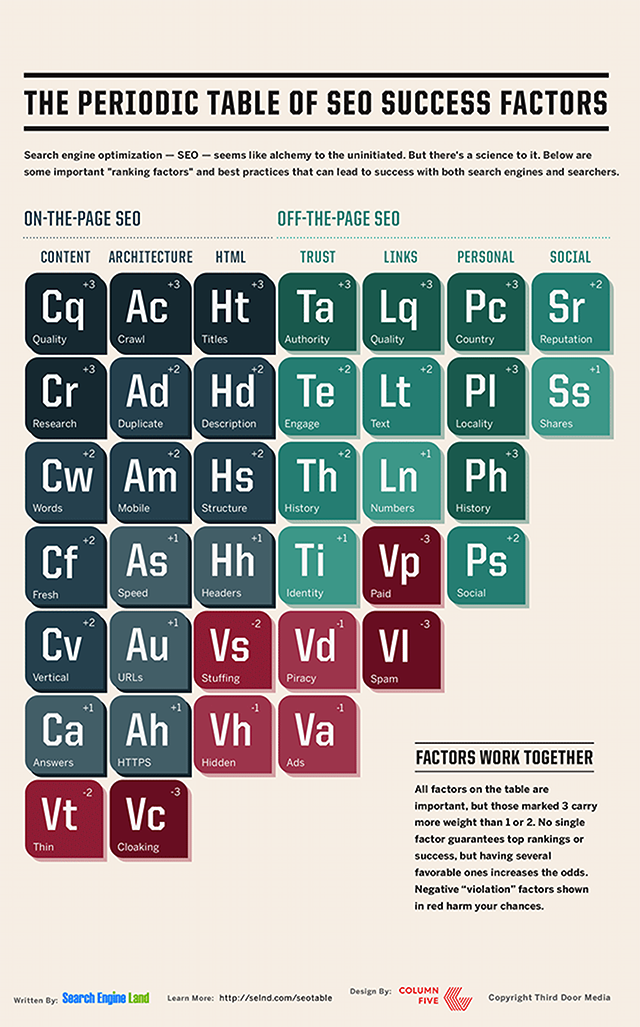 (Source: Search Engine Land)
Content
Audience – What keywords are they likely to use? How are they searching? Are you helping them answer questions and find solutions?
Relevance – Is your material timely? Do you keep your content "fresh"?
Type of content – Have you considered in addition to text other search parameters, such as images, videos, and news?
Architecture
Indexability – Do you make it easy for search engines to index your website? Does your site contain duplicate pages/content? Do your URLs reflect the page content?
Technical – Is your site mobile friendly? Does it load quickly? Is it on a secure server?
HTML Coding
Content structure – Do you use header tags to organize your text?
Description – Do your title and meta tags accurately describe your content?
Trust and Authority
Reputation – Is your site an established authority in your field? Do you have a good track record with following the rules of search engines?
Dialogue – Do you engage with your users?
Identity – Can search engines verify your site as well as the people who are writing your content?
Linking
Association – Are you receiving links from well-ranked and relevant sites?
Anchor text – Do they describe what you want your site to be known for?
Quantity – How many links have you received?
Personalization
Geographic relevance – Do you optimize your site for particular countries, cities, or metropolitan areas?
Appeal – Do you provide material and value that encourage users to return to your site? Is it easy for users to follow your updates and share your content?
Social
Reputation – Are you associated with reputable social accounts?
Presence – Do you make an active effort to grow your social networks and following?
Overall, search engine optimization requires planning and consideration of a wide range of variables, and it involves the efforts of more than one individual. As a marketer, it is important to liaise between your web designer, site developer, social media and community manager, and content writer so that you can address each of these variables.
Please ask about our website audit service if you are interested in identifying more ways to improve your SEO success.