Sniply: Links with Benefits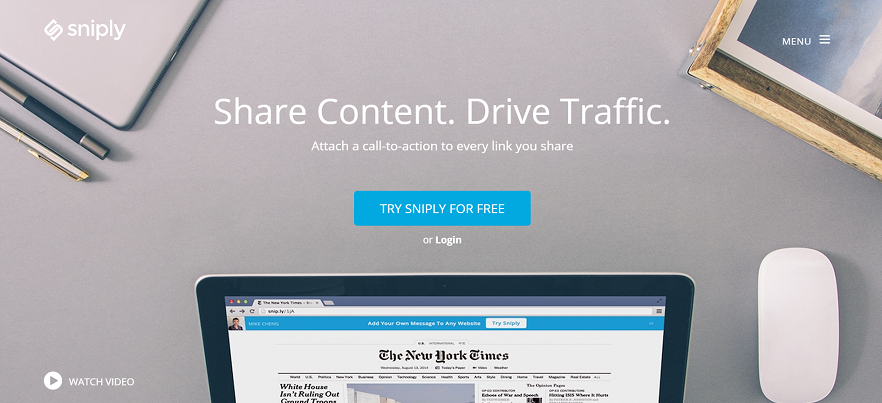 We all use link shortening tools such as Bit.ly and Owl.ly. They're great for sharing web pages and articles with our online community. But for business users, reducing character count is the only benefit. If you're sharing an article that's relevant to your industry but which doesn't mention you, then all you can do is hope your audience appreciates your curation efforts. If you share third-party content that mentions or features your company, all you can do is hope the author has included a URL to your website.
Let's face it. When you curate news or articles, you're sending traffic to someone else's site. How can you leverage content sharing to drive traffic to your own website?
That's the challenge Sniply has solved by taking it to the next level. Sniply is a link shortener that lets you put a customized call-to-action on every page you share. When people click on a Sniply-generated URL, the page displays with a floating mini-banner – the 'snip'. The snip contains your call-to-action (CTA) message and a button that clicks through to the URL of your choice.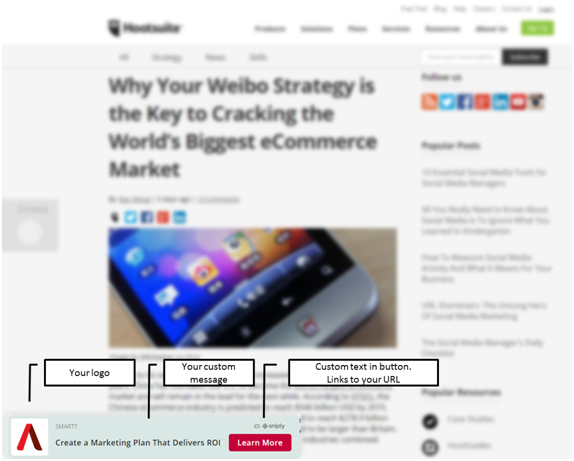 Beyond the coolness factor, Sniply delivers real business value when used intelligently. It's like having a banner ad on the page of your choice, and it's far, far easier to create than a banner. The snip effectively turns your shared page into a marketing page that drives traffic back to your website. It makes your brand clearly visible -- always a good thing when conversion is your goal. The snip floats, so as the user scrolls, the snip (and your CTA) remains visible. And obviously, when any of your audience shares that URL, their audience will also see the snip.
What's Great About Sniply
• Easy to understand means easy to use: Sniply is one of those innovations that doesn't make you re-think your workflow. You already attach links to your emails and social media posts. Now you're just enhancing those links before sending them on. Sniply's browser extensions and integrations with popular social media platforms mean you can bring up snip creation with a single click. It's like using Buffer, then adding a bit more information.
• Simplicity means timeliness and relevance: Unless you want to fiddle with background and font colors, creating a snip with custom text and link takes no time at all. Sniply defaults to the text and selections from your last snip, but speed and simplicity makes it potentially feasible for content marketers to tailor a snip for every piece of shared content. This means you can create CTA messages that are always relevant to the information on the shared page. You can switch up your messages often for freshness. And as any marketer knows, relevance and freshness improve conversion rates.
• Persistence means visibility: Not only does the snip float along as the visitor scrolls down the page, the snip stays with you throughout a single session (unless the user clicks to close it). If you share a story from Wired, when the visitor navigates to other pages on Wired, your snip goes along – provided that Wired displays pages in the same window (and not a new window or tab). It's like remarketing that switches off once the visitor leaves the website.
• Customization means optimal visibility: Sometimes colors and position are just a cute idea. In this case, it's essential. You want your snip to stand out without being irritating. If the page you're sharing has colors or a layout that makes your snip hard to see, customization lets you change colors, snip style, and position.
• Metrics mean measurable results: Sniply's dashboard shows you clicks, conversions, and conversion rates. 'Clicks' refer to clicks on the link itself and 'conversions' refer to click-throughs from the CTA. You can also see your top-performing snips, top websites, and favorites. Insights from this data help you tweak and improve your online marketing campaigns.
• Forms mean collecting data from your audience: Want to collect email addresses for your newsletter? Want to run a quick Yes or No survey? Sniply provides a simple form: your custom message and a text response field. Sniply is beta testing integration with Zapier that lets you export the addresses you capture to email marketing service providers such as MailChimp.

How to Create a Snip

The following features (and more) are available with Sniply's free 14-day Pro trial. Here are the basics for a first-time user.

1. Log in with Twitter or Facebook. Or an email address.
2. You'll see a Dashboard view. Click on any button that looks like this: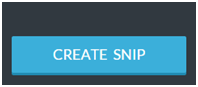 3. This brings up a simple form, which you use to build your snip.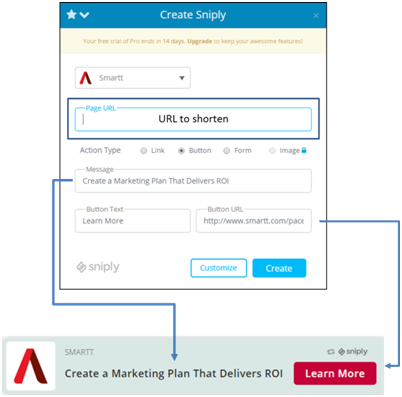 4. To change color, snip (banner) style, and position, click on Customize: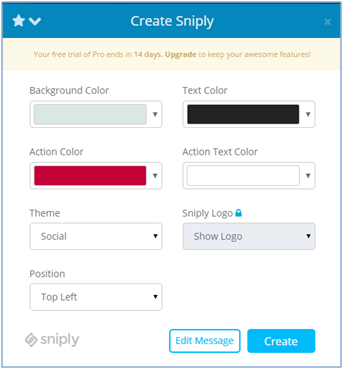 How to Use Sniply

As with any digital marketing tool, you need to plan where and when to deploy Sniply. My feelings are to treat a snip the way you'd treat a banner ad – aim for conversion. Craft the CTA message and even the button label. Also consider the URL for your CTA. Functionally, think of it as a landing page. Rather than use a Home page URL every time, is there another page that's more relevant to the content you've just shared?

I can think of some audiences who would find it obnoxious to see a CTA every time they clicked on your shared content. Consider also who owns the page you're sharing and be respectful. Avoid putting a generic message on every single piece of shared content. There has to be a good customer-facing reason for the snip, otherwise your message gets stale or you offend your audience.

Here are some good Sniply situations:

• An article on a 3rd party site authored by your company guru.
• To promote time-sensitive contests or giveaways
• In support of an Adwords campaign. Hey, if you've already invested in Adwords and built a landing page, use snips to drive more traffic to the landing page. You've already softened the ground for your social followers with a helpful article – the snip reminds them of what you can offer.
• To get more value from your blog posts. Your team works hard to write fresh content for your blog. Make blog posts work harder by tweeting them out with snips that promote relevant products or services.

Sniply tracks click-through data, and claims that the average conversion rate for Sniply links is 5% - 10%. The dashboard provides analytics so you can see for yourself how well your snips perform, and lets you manage/edit your snips.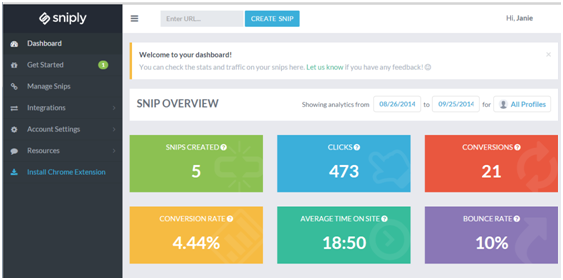 One of the concerns I had when I first learned about Sniply was how publishers would react because the snips present like display advertising. I put the question to Mike at Sniply who said:

"Sniply is essentially incentivized sharing—and I'm very happy that publishers understand that. Publishers need traffic to survive and they rely on people to share their content. Sniply is the key to value-alignment between publishers and sharers. In a way, it's a form of 'earned advertising' where your ad only shows up to the traffic that you drive to the site.

As for validation, we actually work very closely with publishers like the Globe and Mail and the Washington Post. We've also been featured on 50+ industry blogs which are all great signals that not only do people not mind, they are welcoming our innovation."
In conclusion:
Sniply is a powerful yet simple-to-use content sharing tool that generates traffic back to your website. It closes the loop with metrics that help you assess the effectiveness of your content marketing efforts. It is the logical evolution of content marketing. At this stage of its development, Sniply offers all the essentials the average business user could want, as well as back-end and customization features which agencies and large corporations would want to use. Industry pundits can speculate on how the Sniply model will change online advertising, but for now, digital marketing professionals should jump on this tool, understand its features, and decide on how to incorporate Sniply into your marketing tactics.