Pinterest Promoted Pins Guidelines, Performance & Best Practices

Pinterest ads are expected to be rolled out during the next quarter, according to a report from the Wall Street Journal. Initially announced last September on its company blog, the company started testing its "Promoted Pins" last October with "a select group of partners". Here is what the promoted content will look like: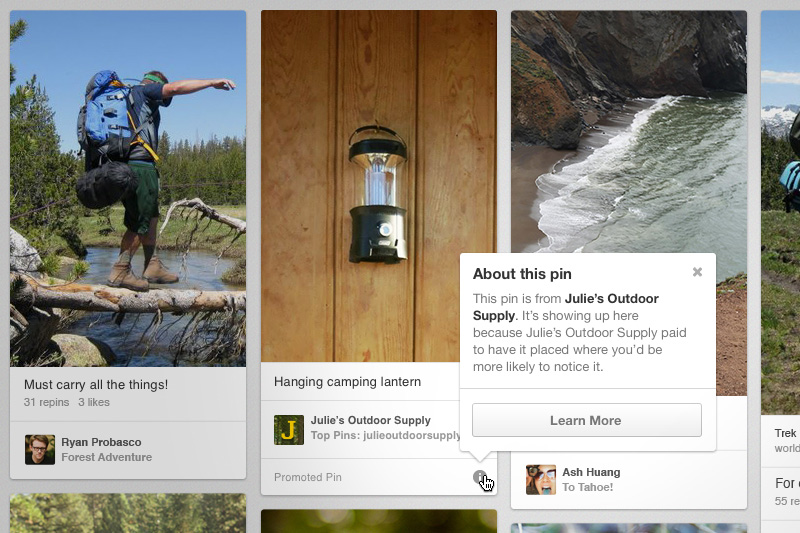 Promoted Pins Guidelines

Ben Silbermann, the CEO and co-founder of Pinterest shared his vision for Promoted Pins when introducing the feature, and stated four key principles:
- Tastefulness: More than the actual visual appeal of the ads, this guideline is related to the ad format in itself. Promoted Pins will work just like regular pins, so no "flashy banners or pop-up ads".
- Transparency: As seen on the screenshot above, Promoted Pins are marked with a "Promoted" label to be clearly identifiable.
- Relevancy: Promoted Pins will be related to your Pinterest activity to ensure a contextual relevancy.
- Improvement based on feedback: Pinterest has setup a feedback form to let users share their opinion on Promoted Pins accessible here.


Promoted Pins Performance

Among the advertisers who were part of the Promoted Pins beta test are:
- Home décor site Wayfair
- Hotel chain Four Season
- Unilever's TRESemmé
- Hellman's brands

While the four companies shared their satisfaction on the Pinterest ads' performance without providing much detail, Four Season said they created a Promoted Pins highlighting a $70,000 hotel package including a private jet trip to Bora Bora which got repined over 9,000 times , and generated 500 requests for a brochure.

We took a look at Four Season's Pinterest page, and their "Wish you were here" board, and while most of the pins get from 10 to 100 repins on average, the following one received over 2,600 pins, 485 likes and 12 comments:


If this pin has been promoted using Promoted Pins, it could give us a pretty good idea of the type of results advertisers can aim for.


Promoted Pins Best Practices

As explained by Pinterest's CEO, Promoted Pins are meant to be an artful type of web advertisement, so try to be creative as with any normal pin. Hubspot shared the following best practices for Pinterest content:
1. "Images that are reddish-orange images get roughly twice as many repins as blue images.
2. Images with multiple dominant colors have 3.25 times more repins than single dominant color images.
3. Images with medium lightness are repinned 20 times more than very dark images.
4. Images that are 50% saturated have 10 times more repins than very desaturated images.
5. Vertical images with an aspect ratio between 2:3 and 4:5 get 60% more repins than very tall images.
6. Images with <10% background receive 2-4 times more repins than images with >40% background.
7. Images with a smooth texture are repinned 17 times more than images with a rough texture.
8. Brand images without faces receive 23% more repins than images with faces."

If you would like to receive more information about the Promoted Pins rollout, Pinterest has created a form to subscribe to a newsletter, and get in touch with us if you would like to strategize ahead of the rollout.