Google Rolls Out +Post ads, Might Not Be As Promising As It Looks

Google announced this morning on its Adwords BlogSpot that the company is rolling out the anticipated +Post Ads introduced last December to a select group or partners, including Toyota USA, RITZ Crackers and Cadbury UK. For people unfamiliar with Google's new +Post Ads, it is a new ad format on the display network allowing Google+ user to promote specific content on their Google+ page, such as photo, video or a Hangout.
Google +Post Ads New Features
In addition to the rollout of the ad format to all advertisers, the company has added two new features to +Post Ads: Hangouts on Air and automatic post promotion, which are meant to "help you create compelling ad experiences and make it easier to extend the reach of your social content".
Using +Post Ads to promote Hangouts on Air
Advertisers can now use +Post Ads to promote a Hangout on Air, and engage their audience by allowing it to interact with the content before, during and after the broadcast. For example, users are given the ability to RSVP to the Hangout prior to its start, watch it while it is live, or view a recording when the Hangout is over. Included below is an example of a +Post Ads post promoting a Hangout on Air: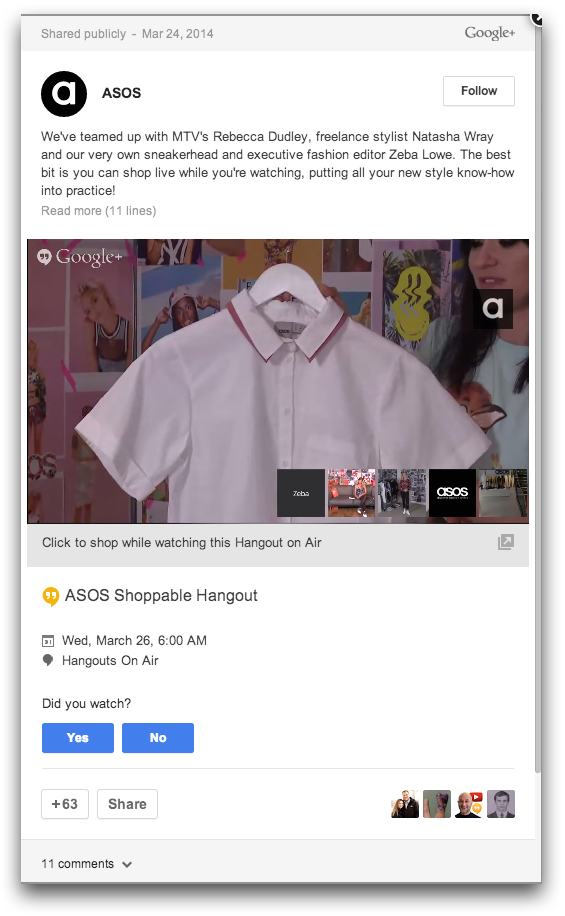 The example above references ASOS's shoppable Hangout where users were able to check different items and directly make purchase. ASOS used +Post Ads to promote the event, and it turned out to be pretty effective as 71% of the Hangout viewers were doing so from a +Post Ad. The company however did not share any sales data.
Using +Post Ads to automatically promote your most recent content on Google+
Google now allows you to setup an automatic promotion of your most recent Google+ content through +Post Ads. The company specifies that advertisers will only be charged when "people engage with your content". It remains to be seen what is considered as an engagement, but the feature seems promising as it could really ease the management of Google+ content promotion.
How to Use Google +Post Ads
Google +Post Ads have to be setup through Google Adwords, and need to be using the "Display Network only" campaign type, as engagement ad campaigns are only available on the Display Network.
The steps to use +Post Ads can however differ depending on how you plan on using them, Google provided detailed guides on its support page and covers the following cases:
Creating +Post Ads in a new engagement ad campaign
Creating +Post Ads in an existing engagement ad campaign
Creating +Post Ads using the Ad gallery
Minimum requirement
Google specifies the following requirements in order to qualify for +Post Ads:
Minimum of 1,000 followers on the Google+ page promoted
Content promoted has to be relevant to the audience
Shared endorsement for Google+ pages is opted in
Google +Post Ads Beta Test Performance
Google shared a few case studies from the +Post Ads beta test, specifically from Toyota USA, prAna and the European Parliament:
Toyota USA
Toyota USA wanted to raise awareness about the new 2014 Corolla among a young audience and decided to do so by promoting their Google+ content with +Post Ads.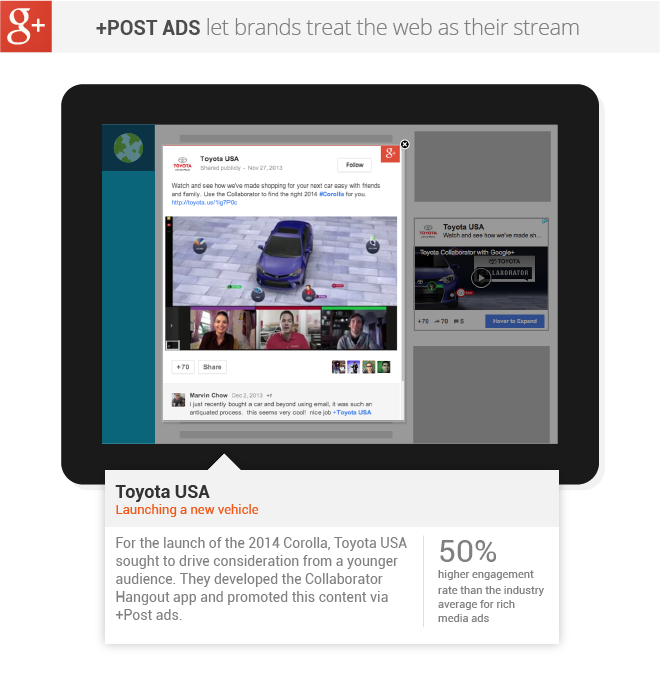 The company states that it saw a 50% higher engagement rate than the industry average for the rich media ad format. For reference, here is the benchmark for rich media ads:

According to these benchmark metrics, Toyota USA must have seen an approximate 4.3% interaction rate, an average interaction time of less than 19 seconds, and an expansion rate of 2%. It is however difficult to assess the performance of this campaign without having a look at the content that was promoted.
At Smartt, we always put a heavy focus on the analysis of the direct and indirect effects of any promotional activity, so we decided to take at look at Toyota USA's Google+ page to determine if the content promoted with Google +Post Ads was seeing more engagement than regular post, and it appears that the example used by Google did not see any major engagement, barely more than other posts usually ranging from 30 to 100 +1s: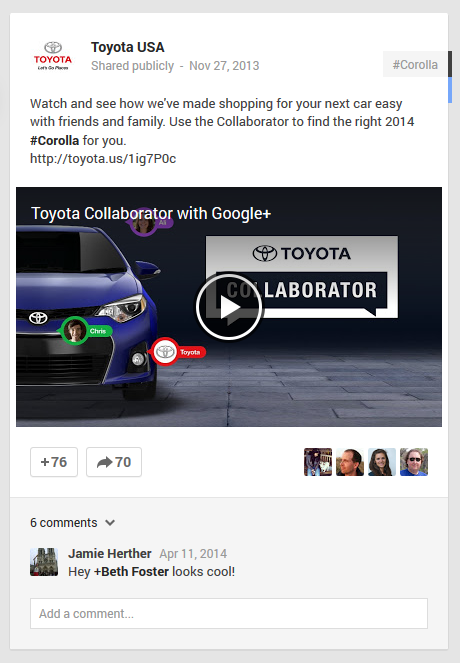 More interesting, the video included in the post is 1:10 minute long, so if the average interaction time is only 19 seconds, despite the fact that it is 50% higher than the industry average, it shouldn't be considered as a success at all, if not the opposite. To illustrate this statistic, the average viewer only saw 27% of the video before closing the +Post Ad.
prAna
prAna, a yoga and climbing inspired apparel company, decided to include +Post Ads in its existing Adwords campaigns. Karen Hardy, the Online Marketing Manager shared the following thought:
"We focused on highly targeted audiences that best reflect the interests of our core consumers, such as yoga, climbing, outdoor lifestyle etc. We chose the most hyper relevant Google+ content to promote to each targeted audience, to ensure high engagement rates."
No words however on the actual performance of the +Post Ads.
European Parliament
The European Parliament ran a campaign using +Post Ads in 11 countries to encourage European citizens to vote for the upcoming EU elections in partnership with Ogilvy Brussels. Google shared the following statement regarding the campaign's performance:
"Koen Van Impe, CEO Ogilvy Brussels, found the combination of an easy to create ad, the potential reach and targeting of the Google Display Network, and the powerful ad format promising and saw engagement rates that were 50% to 100% higher, and at a lower cost-per-engagement, than previous campaigns."
Again, these statistics don't mean much unless we have access to the previous campaigns performance.
Google is usually very good at selling its new ad products by showcasing their performances and merits quite prominently. However, for +Post Ads, the company only references previous campaigns and links to benchmark statistics without really mentioning them.As a result, this announcement differs from typical ad products announcements, and it would be understandable for advertisers to question the real effectiveness of +Post Ads until more data and case studies are made available.
Get in touch with us if you would like to test the new +Post Ads or integrate them in your existing Display Network campaigns, and share your opinion on the new ad format with us on Twitter.