Google Rolls Out Location Extension for Display Ads
|

Google announced last week the rollout of the new location extension for Adwords. The new extension allows advertisers to include photos and information such as business hours and store location directly in an ad. The new feature was made available last Tuesday for both Search and Display Networks as well as Google Maps, and some eligible ads are already using it automatically.
What is the New Adwords Location Extension?
The new Adwords Location extension helps improve the visibility and the click-through rate (CTR) of your Adwords ads. By displaying additional information about your business, such as your address, position on a map, or the distance to your location. The new display ads extension is also interactive and allows people to click/tap on the ad to display even more information. It can include a phone number or a call button.
Here are two examples of the new callout extension.
Search Network

Display Network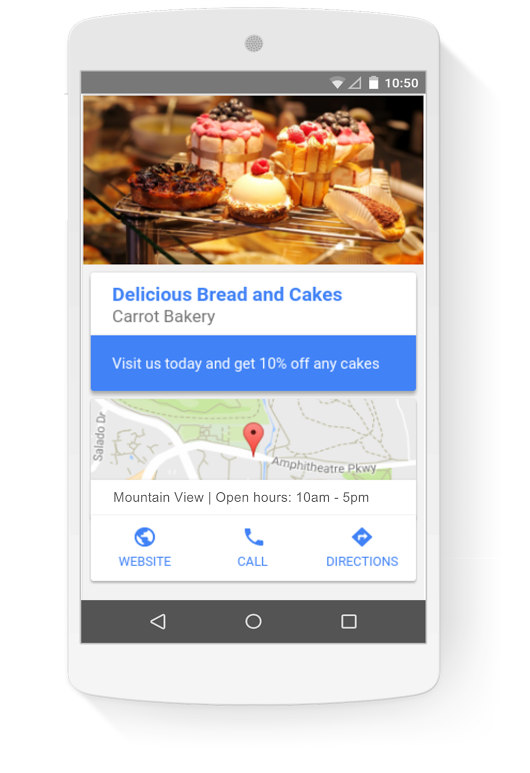 The Location extension is also offering an affiliate option for businesses selling their products through retail chains. When someone searches for a product on Google, the ads will display the nearest store that carries the product, either as an address or as a map. You can learn more about Affiliate Location extensions on Google's support page.
Why Should You Use the Location Extension?
The feature is still in its early days, but Google has shared some preliminary numbers indicating that the extension has generated an increase in clicks for advertisers during the early tests. In addition, Google reported that 60% of the total clicks were related to actions that can boost in-store visits such as finding directions, calling the business, visiting the website, or checking hours of operations.
How to Setup the Location Extension?
For Display Network ads
Some eligible display ads may have automatically been converted to the new Location extension ad format (specifically, reponsive ads and 300x250 display ads). Advertisers can also manually setup ads to use the Location extension by manually selecting the "Extend my ads with location information" option.
For Search Network ads
Advertisers have to setup a Google My Business account in order to use location extensions on the Search Network. Once done, the closest business location will be displayed in any text ad. Advertisers also have the option to assign specific location to particular campaigns (e.g. if one of the location is the only one to carry a product). You can find additional instruction on setting up a Google My Business account and using the location extension on the Search Network on Google's support page.
Get in touch with us if you want to learn more about how Smartt can help you optimize the performance of your search and display advertising campaigns (check out the details on the available search engine marketing activities), or feel free to take a look at our blog and training courses if you want to learn more about digital marketing in general.