Google Rolls Out Flexible Conversion Counting

Google announced on Tuesday on its Inside Adwords blog that the company is rolling out "flexible conversion counting". The feature was first announced in an email sent on February 4th to a large number of advertisers, and is meant to provide more flexibility in counting conversion, and allow "easier to understand conversion column names".
Google describes flexible conversion counting as "an improved way for you to count conversions that really matter to you, [allowing you to] better measure the value of each click that turns into business results."
So how different are flexible conversions from the original ones? Two specific metrics have changed:
Conversions (one-per-click) are now Converted clicks
Conversions (many-per-click) are now under the Conversion column, and will include conversions based on specific user-defined settings (i.e. either "All conversions" or "Unique conversions")
"All conversions" are described by Google as follows: "With this setting, AdWords counts all conversions (per tracked conversion action) that happen after an ad click. This is a good choice if you'd like to track and improve your sales."
"Unique conversions" are different because AdWords "counts only unique conversions that happen after an ad click. This is a good choice if you're not interested in the number of sales, but instead whether or not a certain kind of lead was generated."

The clearer distinction between the two conversions types is meant to ease the performance optimization of conversion-focused campaigns.

Google provided the following video to illustrate the new flexible conversions:

Google also provided the following infographic to illustrate how flexible conversions can be used for an online clothing retailer: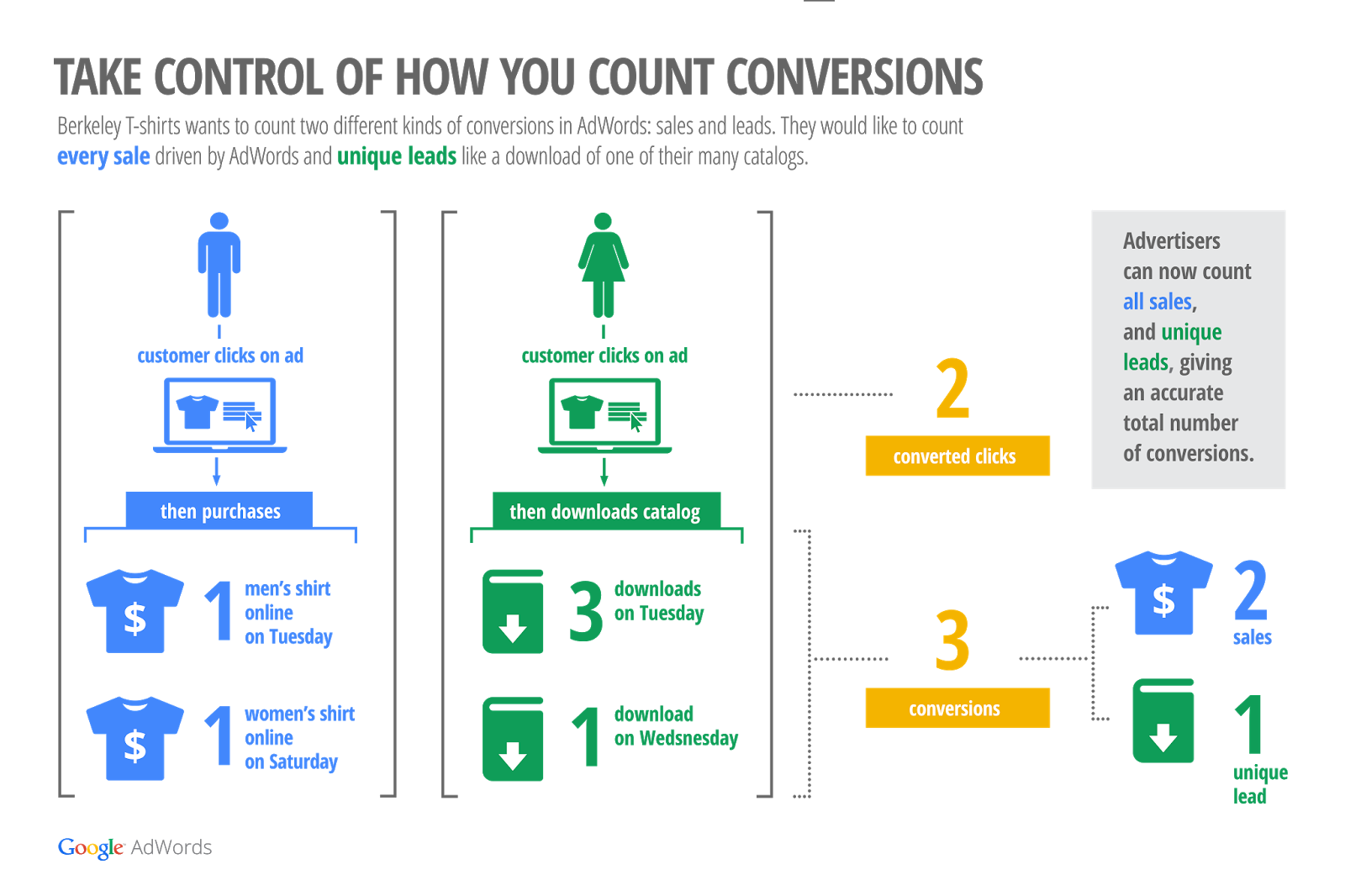 By default, Google will count "All conversions", the column names will change but numbers remain consistent until you actually change your settings. Google also says that "Automated bidding solutions like Conversion Optimizer and eCPC will continue to function as they did previously for both the "Converted clicks" column and the "Conversions" column."
The newly introduced flexible conversions will however have effects on estimated total conversions, as well as cross-device conversions. For this reason, Google recommends to pay attention to the "Conversions" column rather than simply the "Converted clicks" one for any estimated conversion. As Google explains, "Estimated conversions will reflect your chosen counting method ("All conversions" or "Unique conversions"), so the comparisons between estimated and actual conversions will be more meaningful." The image below reflects the latest changes: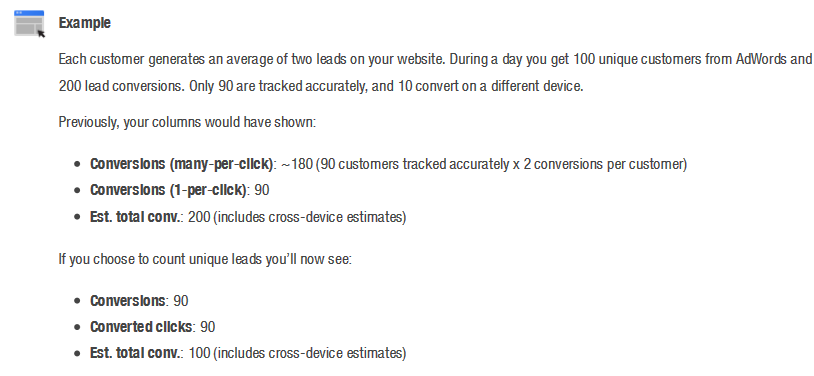 As a side note, the change in column names require you to update any saved or downloadable reports by clicking on the "Update now" button accessible from the reports page.

Conversions are what validate AdWords campaigns. Get in touch with us if you would like to get more information about how to use flexible conversions effectively for your campaigns, or to attend one of our upcoming P.A.C.E. training sessions to learn more strategies and tactics to Convert your audience into buyers.(need to past link to upcoming event reservation page).