Facebook Introduces Customer Chat Plugin (Messenger 2.2 Update)
|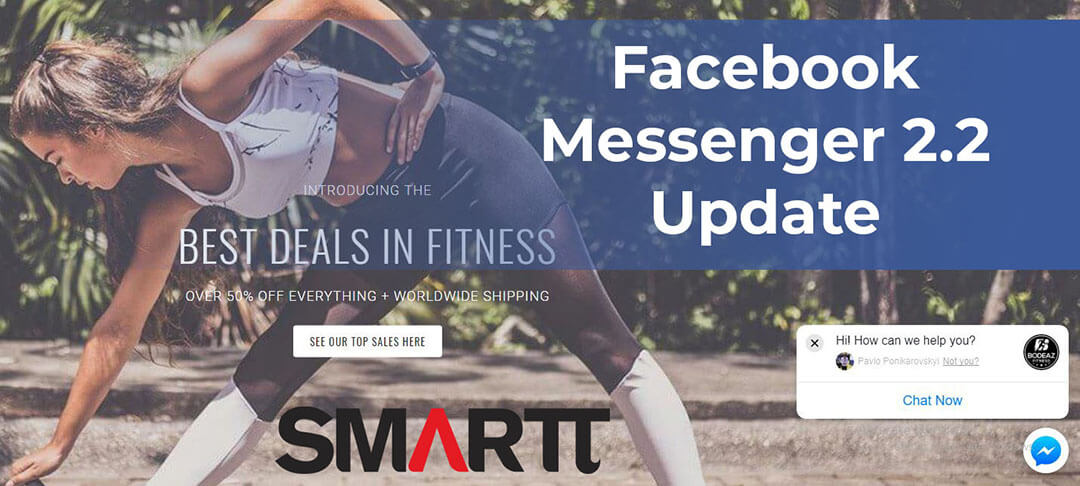 Two days ago, Facebook announced an update to the Messenger platform on their blog. As much as this update adds some value to the customer, it is a much bigger deal for the marketers. We will discuss the extended functionality below.
Facebook Messenger as the New Ad Platform
Recently, Facebook has been spending a lot of their resources on constantly improving their messenger functionality for both users and marketers. Considering they are limited by the daily number of visitors, Facebook is always looking for new ways to better engage their users. Messenger is an ideal platform for expansion, and as research shows, current engagement and open rates beat email performance by a land slide.
From separating the Messenger from the main application, to adding "Snapchat like" functionality and bots, the platform has grown a lot in the past years. If previously marketers were able to run campaigns with the "Clicks to Messenger" as the objective, and then manually respond to the customer queries, later on they were able to setup automated responses similar/better than email drip campaigns. This has created a whole new industry of chat bot creators and resellers in the world of digital marketing, as well as many custom plugins such as Checkout Bots and even on site Facebook Live Chat functionality. However, some of these solutions were often unstable or impractical.
Customer Chat Plugin by Facebook
Facebook keeps a close eye on their developer community to define their roadmap and add new functionality, which has happened with the 2.2 release of their messenger. As a result, businesses can reach their customers on Facebook in new and more engaging ways, without customers leaving the website. This could be a hard hit for many live chat services who will now be competing with the likes of Facebook (as it certainly doesn't make sense to clutter the website with multiple chat plugins).
Currently it's in the closed beta, with many top brands already using the new functionality to their advantage. Some of them include: Adore Me, Air France, Argos, Aviva (Eurofil), Bodeaz, Elves, Goibibo, Keto Mojo, KLM, Mermaid Pillow, Spoqa, Total Activation, Volaris and Zalando. You can apply for the beta waitlist here.
Find out why every business should embed a Messenger bot on their website
How Does It Work?
The recent update adds Customer Chat functionality to the platform, which is a plugin that will allow businesses and marketers to continue and initiate conversations on Facebook Messenger right on their own website. Whether the user is on the website, or on Facebook – businesses can now have continuous conversations. Moreover, this update makes the Messenger a truly cross platform solution.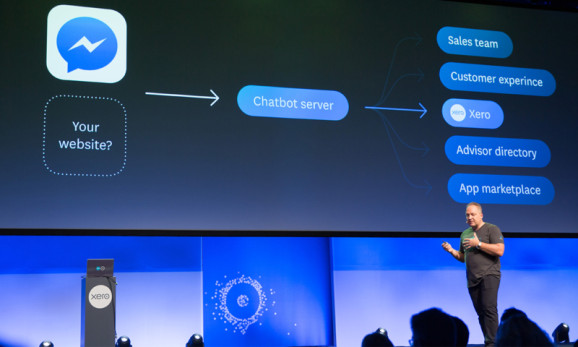 Image Credit Xero
Like many other Live Chat applications, the Messenger plugin hovers over the screen with the familiar icon, ready to initiate conversation as soon as the customer clicks on the button. The interface on the website messenger is identical to the native Facebook look, as well as shares the same functionality. The key differentiator of the Facebook Messenger plugin, is the ability to initiate a conversation with the customer once they leave your website. This creates a lot of opportunity for cart abandonment, content marketing and customer engagement, among many more countless uses.
Real Life Example
It's always nice to stay up to date with the latest marketing trends and be aware of the developments, but nothing can beat real life experience. As the old proverb goes "It's better to see once than hear a hundred times" and that's exactly what we did!
Bodeaz were lucky enough to be on the list of the Beta users, so we went to their website to see the new Messenger functionality. Once you go to the Bodeaz website, you would see a typical ecommerce layout – with a one major difference. There is a messenger icon at the bottom right corner of the screen.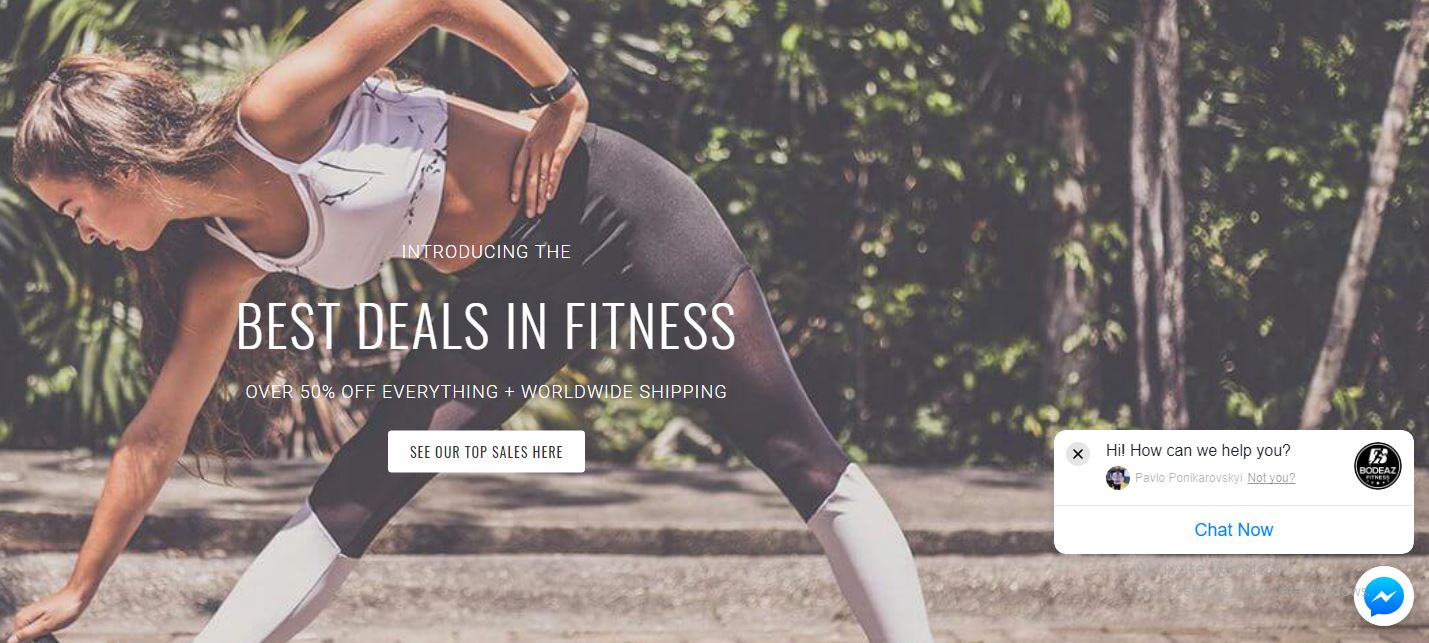 Once you click on the icon, you are greeted with a personalized welcome message and a coupon offer to entice the sale. From here on you can either chat with the bot/real person, or click on the predefined buttons (such as "Check Top Sales").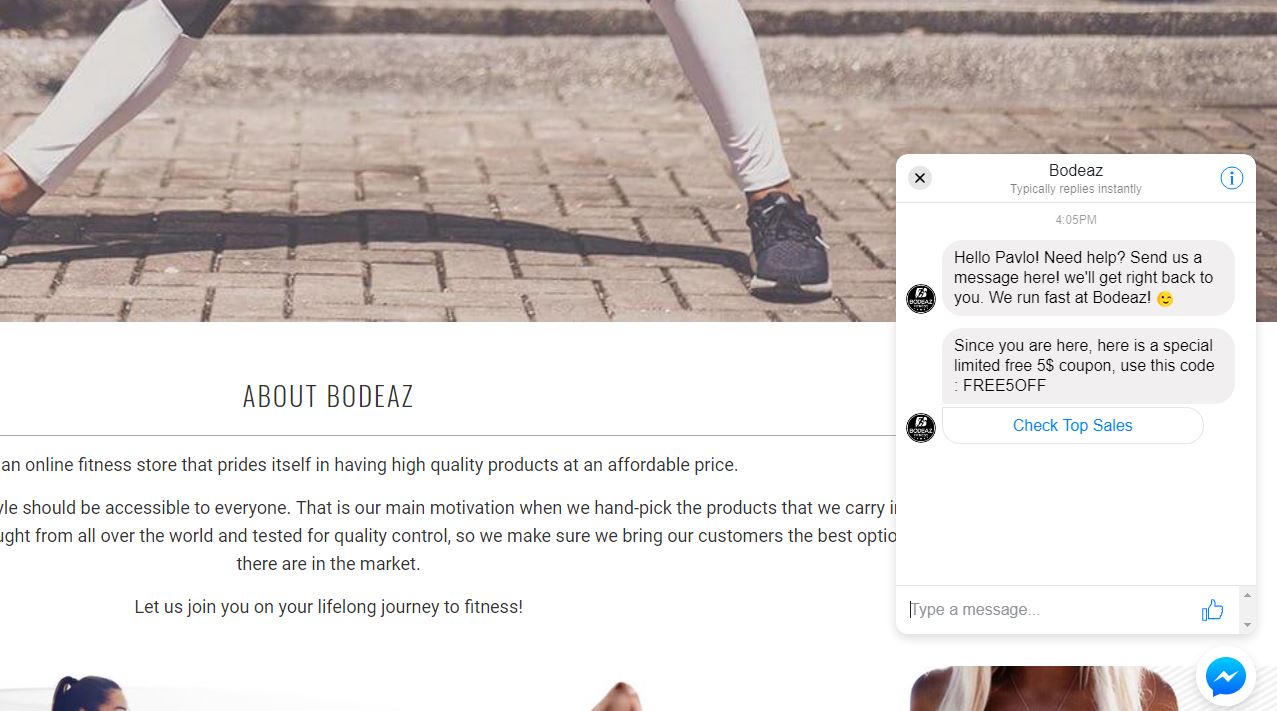 The cool thing about it is once you leave their website, your conversation is still active in Messenger. This is an equivalent to the email subscription, until you turn that business page off in the settings. From here onwards, Bodeaz can follow up with me with their recent deals, news, or any other form of engagement they decide to implement.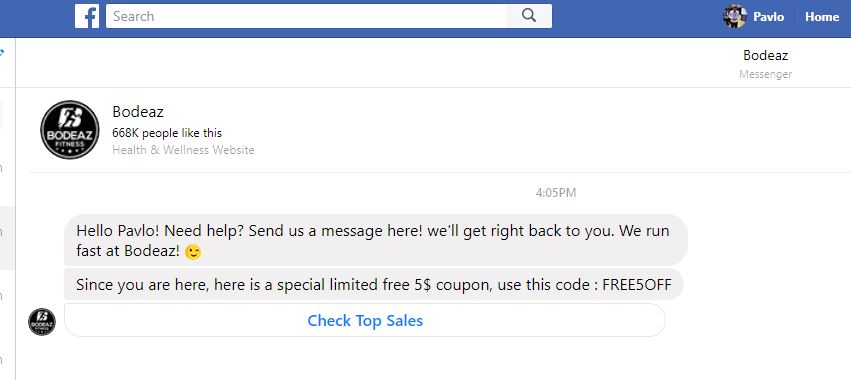 Since it's still in Beta, I couldn't get that much out from speaking with the Bodeaz bot, but it's entirely up to the business as how sophisticated they want to go with the implementation. Your imagination/time is the only limit here!
If your business would like to implement chatbot functionality, along with the Messenger plugin once it becomes available, don't hesitate to get in touch with us for a free no commitment audit or view our digital marketing services.