Facebook Announces "Facebook at Work" for Business Use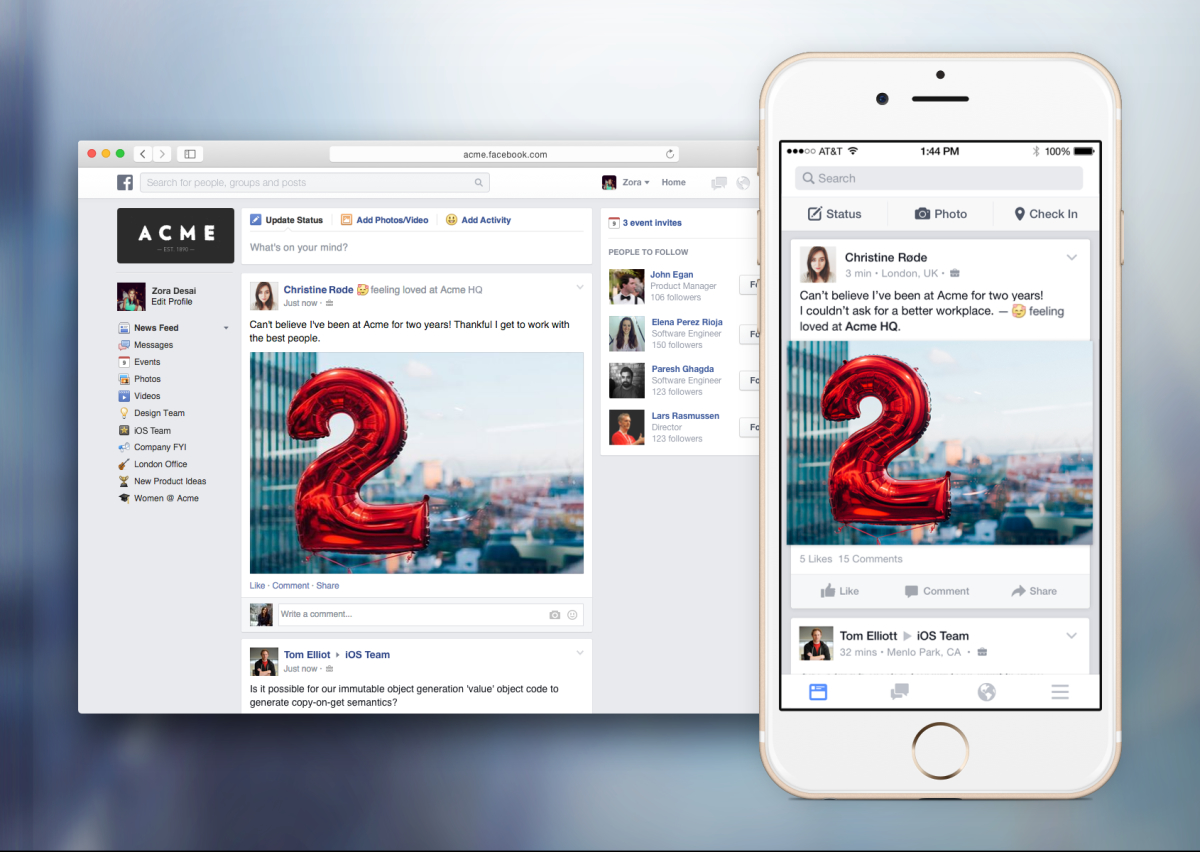 Facebook has just announced Facebook at Work. It has all the same features you're used to, except that:

• Your company has to sign up to give everyone access
• Instead of family and friends, your colleagues are your 'friends'
• The background color is different (white) so that people can tell you're using Facebook at Work and not doing personal social media

It works very much the way a Facebook Group works. The company first talked about this feature six months ago and has been testing the service. The initial target for roll out would be companies with more than 100 employees.

This makes sense for Facebook because its user growth has slowed down. By getting into enterprises, Facebook gets in front of business users who haven't bothered with Facebook, giving them a chance to use the platform, and perhaps also join Facebook as an individual.

A common challenge for applications is the learning curve for new users; companies often face resistance when employees simply don't want to learn yet another application. In this case, there is a sufficient critical mass of existing Facebook users who are already familiar with the interface and who can help colleagues get comfortable with Facebook. It would be very easy for employees to adopt Facebook at Work as their company bulletin board and messaging system.

Some issues that will affect adoption

Security and ownership of data. Company announcements and information on Facebook at Work are being discussed in the cloud. In Facebook's cloud. Facebook says that smaller companies are already using the Groups feature to interact in a manner similar to Facebook at Work. Here's the thing: regular Facebook does not purport to be a business app and makes no representations about keeping your data secure. As a business app, Facebook will need to address security and privacy issues, not to mention what it does with the data.

Corporates are highly adverse to letting company data out of their internal network. Facebook will be competing with hosted solutions for messaging and information sharing, such as Sharepoint and the good old-fashioned "all staff" internal mailing list.

How the company plans to monetize Facebook at Work. For the moment, there are no ads. In an article from TechCrunch, engineering director Lars Rasmussen has said "it could be paid." TechCrunch speculates a future tiered subscription model where paid subscribers (companies) can work ad-free and free users will get served with ads.

A recurring enterprise revenue base is a big plus for any company so from this point of view, this is a smart move for Facebook. Until Facebook says more about how it will safeguard and manage corporate data, however, enterprises should proceed with caution.