Digital Marketing Interview Series with HubSpot's Head of Conversion Marketing

Diana Urban is the Head of Conversion Marketing at HubSpot, a marketing automation company. Here are her thoughts on digital marketing:
What do you see as the biggest challenges for marketing professionals over the next three years?

Marketers need to create more personalized campaigns than ever before – audiences are desensitized to mass email newsletters, and have come to expect websites that cater to their interests, like Amazon.com. That means marketers need to keep up with pretty advanced technologies. Segmenting your email database based on contacts' interests or displaying dynamic content on your website – showing different content to different people – isn't easy. It's especially difficult for marketers who use disparate systems for each element of their marketing – website CMS, blog, conversion forms, email marketing, social publishing, and so forth. (To learn more about digital and content marketing, check out our interview the CEO of Swayy, a content discovery platform.) Fortunately, I work at HubSpot, and get to use our own marketing software that includes all these marketing tools in one platform, so it's easy to serve dynamic content on our website and hyper-segment our email lists.

How did you get the background and skills necessary?

My college courses were all about traditional marketing – I attended right when inbound marketing and social media marketing were first taking off, and the professors hadn't caught up yet. At the time, it was my internships that let me dive in. I've learned most of what I know on the job as well by running a social media blog on the side (http://ustandout.com) where I sell a couple of ebooks. I believe that you learn best by doing and teaching. So I get to do conversion marketing both for a huge company like HubSpot during the day, and a small company like U Stand Out at night. I also blog a lot about the skills I use, and this method of teaching helps me learn even more and optimize those skills

What advice would you give to young people who want to go into inbound marketing some day?

Don't wait until you get the "perfect job" to start doing inbound marketing. Create a website and blog based on one of your interests, and sell something. For example, I have a couple friends who love to bake. They each created a website and blog about baking, and they sell baking services. Getting this hands-on experience marketing something from the ground up will impress any hiring manager, and give you a leg up when you start on the job.

What excites you the most about your industry?

It's exciting how often things change. Marketing is always in flux, and we need to adapt our strategies when new technologies surface or when the audience learns to tune out old tactics. It's challenging, but exciting because there's never a boring moment.

What do you consider essential skills for a marketing team these days?

Data driven – you need to make decisions on current or future campaigns based on data from campaigns you've already run, otherwise you'll waste your time and money on strategies that don't work. Focus on tactics that are driving real revenue and ROI instead.

Adaptable – again, change is constant in marketing, and the Internet and social media are fast. So you need to be agile and adapt your strategies to the changing times.

Courage – you can't be afraid to fail. For every five failures, you'll find one thing that blows it out of the water. Test everything, and don't discount any one strategy. In the beginning, nobody thought Twitter would amount to anything. Look at how that worked out.


What do you feel are the most underrated skills in a marketing team these days?

Being detail oriented. That's really going back to basics, but attention to detail is the difference between a good company and a great one. Disney is so successful because they pay attention to every tiny detail of their parks, their marketing, their branding, etc. On a smaller scale, if you publish a blog post or landing page flurried with typos, you'll lose conversions and credibility. Sweat the small stuff, and you'll reap the rewards.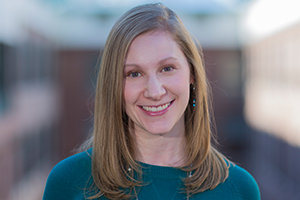 A marketer by day and author by night, Diana Urban (http://diana-urban.com) is the Head of Conversion Marketing at HubSpot, founder of the U Stand Out Internet marketing blog, and author of the novel Stealing Paris. You can follow her on Twitter @DianaUrban.