Digital Marketing Interview Series with BuildDirect's Communications and Engagement Manager

Tyrell Mara is the Communications and Engagement Manager at
BuildDirect
. Here are his thoughts and experiences in the digital marketing field:
What are two or three digital marketing/social media/management trends that impact your role as a manager, and why?

Despite the world of technology moving faster and faster, I still think it all comes back to authentically telling your story in a way that engages and mobilizes your audience. The brands getting this right are the ones who take the time to understand how their audience interacts and behaves online – and then joining them in a fluent and authentic conversation.

It's no longer good enough to simply put out great content. Great brands are able to take this content and translate it into micro-stories, speaking the native language of each channel and platform being leveraged to engage with a community. I am looking forward to seeing more brands create micro-stories that integrate seamlessly across channels – providing the audience with consistent anchors between multiple forms of media – online and off.

In your experience, what are the top success / failure factors for a marketing campaign?

It all starts with having a deep understanding of your audience. Who they are, where they live, and how they naturally engage and interact in those spaces. Whether you're publishing a post to Facebook or running an integrated marketing campaign, your strategy and decision-making process will be informed by your audience. Taking the time to put yourself in the mind and shoes of your audience is critical to ensuring the campaign speaks the right language and tells an engaging story. Using a combination of media and touch points to create clear communication around the campaign is also important. There is also an increasing opportunity to create integrated campaigns that engage the audience in unique ways across multiple channels, both online and off.

What do you consider essential skills for a marketing team these days?

The ability to understand multiple strategic layers of execution is one of the key pillars to a strong marketing team. A good team can assess the big picture and direction of the organization at 10,000 feet before zooming to 1,000 to find alignment in the marketing strategies, and finally seeing how each individual's role on the ground impacts that grand vision. As users continue to freely flow across various types of media through multiple devices, the ability to have a truly integrated marketing team that creates one consistent brand voice will become a key difference maker.

What do you feel are the most underrated skills in a marketing team these days?

I'm a big believer there is still huge value in the ability to facilitate meaningful conversations, emotional connections, and real relationships with your audience. Whether this is done through a multi-million dollar campaign or grassroots outreach program, giving your brand the voice and personality to evoke a desired emotional response hasn't diminished in value. In fact, I think as the barriers to connecting with target audiences continue to fall, building these communities effectively, consistently, and authentically, will only become more essential.

How did you get the background and skills necessary?

I'm happy to look back and acknowledge my background skills have come from an array of experiences from playing NCAA Division 1 basketball, running businesses when I was 12 years old and earning an MBA in entrepreneurship. There are 3 consistent aspects when I look back: 1) constantly surrounding myself with great leaders and mentors like my parents, coaches, and colleagues, 2) Aligning my pursuits in life (work and athletic) with my core passions, 3) knowing that if I really want to accomplish something, the resources to do so are almost always there to make it a reality.

More specifically, in University I realized I wanted a website to develop my personal voice and brand, so I learnt how to design websites. I realized there was a market for this and turned the skill into a small web design company. While developing my own voice online I stumbled across this incredible online community, called social media - I knew what I had found was something special, and so I began studying the dynamics of how this space really worked. Through sharing my learnings I attracted professionals and businesses who were eager to learn and be supported in their own journey of building their brand. Finally I have had the opportunity to join an incredible company, BuildDirect managing our social team to push the boundaries of what's being done in the digital communications space!

What advice would you give to young people who want to do [your job] some day?

Take the time upfront to know what it is you truly enjoy doing. What are the activities and accomplishments that fill you up with energy? If you're passionate about the digital communications space, get your hands dirty in experimenting, testing, and iterating with strategies and tactics. Write about it, share your opinions, show how the work you are doing is making a difference. I have pushed myself to build presentations and keynotes on the communications projects that generate great results.

It takes time and is far from easy, but if you can feed your passions everyday in a way that connects you and your work with other great people in your space - the opportunities will arise and doors will open to allow you to walk into that dream role.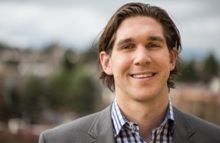 Tyrell Mara has rooted his career in a foundational belief that building real relationships and communities through authentic conversations can impact a business, start a movement, and even change the world. Along with leading the social media team at BuildDirect, Tyrell runs his own blog on leadership and digital strategy and is a competitive Crossfit athlete with a goal of earning a spot at the World Crossfit Games. Connect with Tyrell on twitter, @TyrellMara.