4 Ways to Improve Your Digital Marketing Performance with Google Analytics Users Flow
|

The Users Flow report is a visual graph of the paths web visitors go through on your website - from the source to the exit pages.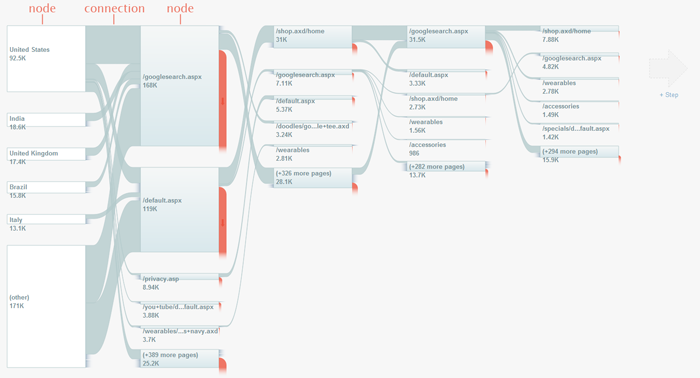 (Source: Google)

Here's how you can use Users Flow to improve your website performance:

Assess the quality of your search traffic

The Users Flow report is helpful for determining whether your search traffic has fewer or more drop-offs and bounces in the first or second pages compared to other traffic sources (such as social media). If you discover that your search visitors drop-off quickly, it could mean that you're attracting too much unqualified traffic.

You can improve the quality of search traffic by using the following two tactics:

• Use the Search Engine Optimization feature in Google Analytics
This will let you see which search queries web visitors are using to land on your website. To do this, access your Google Analytics account, click on Search Engine Optimization and then click on Queries.






This information helps you understand the type and quality of organic traffic you're attracting. For example, if you're a coffee shop store and you realize you're receiving traffic via the keyword "coffee makers," as opposed to "coffee beans", you know why visitors are bouncing your website – they're looking to buy coffee makers! In this case, you'd optimize the keywords "coffee beans" by including the terms more frequently on your website.

You can also use the Queries feature in Google Webmaster Tools to gather similar information.

• Use the Content Keywords feature in Google Webmaster Tools
The Content Keywords feature in Google Webmaster Tools lets you find out which keywords your website is associated with. These keywords suggest how Google perceives your website. It's a useful cross-reference to understand both the query terms visitors are using and the keywords Google believes are relevant to your website.

For example, if you're HubSpot you'll see that Google thinks your website is related to keywords such as marketing, blog, hubspot, inbound, or social – which is good news.



If you discover, however, that Google is associating your website with keywords that aren't related to your brand, you can alter Google's perception by including more targeted keywords on your website or removing terms that are skewing Google's perception.


Analyze path flow

User Flow helps you analyze the path your web visitors take to determine whether they're visiting targeted webpages on your site. For example, your goal may be to direct visitors to webpages such as your About Us or Services page.

If you discover that the majority of your traffic isn't going to those pages, you need to examine the content and design of your web pages and make changes that do a better job of directing traffic flow to those target webpages. You may need to revise content or include more powerful and prominent call-to-actions on the preceding pages.


Improve conversion rate

Use the User Flow report to find out which pages visitors are exiting or dropping out from.



This information helps you identify which webpages may have potential issues or need optimization. The pages may have a broken link, contain weak CTAs, or content that doesn't resonate with the audience.

When you have identified webpages with high exit rates, modify them by fixing the link, adding stronger CTAs, or developing content that's aligned with the buyer persona.


Analyze PPC keywords

You can also use the Users Flow report with pay-per-click (PPC) campaigns to see which keywords are generating the most engagement. This lets you focus your ad budget on profitable keywords and cut the losers.

To analyze PPC keywords using Users Flow report, first select Campaign under the drop-down button on the top left:



Afterwards, select the campaign you want to analyze.


(Image by: Search Engine Land)

Then, select 'keywords' in the drop-button menu on the left and you'll be able to see visits generated by different keywords from the campaign and visitors' engagements.



User Flow is an insightful and user-friendly Google Analytics feature that helps marketers gain in-depth findings about their visitors. This information help you assess the performance of your digital marketing programs and make improvement to your SEO and PPC campaigns and on-page conversion rate.

If you want to learn more about Google Analytics, register for our 2-day Google Analytics Training Workshop or shoot us a message via contact form!